Because I'm tied to the academic calendar and now am living a thousand miles away from my sewing machine, I only get to sew during breaks anymore. Which is really depressing, because now I have constant Internet, which fills my little chispita brain with a thousand ideas for projects. It's like a big, theoretical sewing Clue. Lisa...with Butterick 4790...in navy blue calico!
More recently, I've gotten my heart set on having a black dress with a lace overlay and lace three-quarter sleeves and a black underlining. This is what my mind-dress looks like, except in black.
A little blousy, not too tailored, with a sash instead of a belt. And longer, because I'm a rather prudish modest teenage girl.
Then I just started getting excited and pinning a ton of lace dresses "for inspiration" (or 'cos they're so pretty!)
I started fairly on topic--this has the basic, gathered bodice look I settled on. I even have a pattern kinda like this that I'll be using for my dress.
Just darned pretty, though much more formal than I had intended. But that lace! And that neckline! Isn't it just gorgeous?
And
Julia's
made me drool. Fortunately, I don't have my lace yet, so no beautiful fabric got wet.
This may not be the silhouette I'm aiming for, but I'd love for my dress to have as much classic beauty as the Duchess's!
Alas, I can't sew every lace dress I come across. I just don't have the time or frankly, the social calendar. But I do have this pattern, the one that's rather similar to Modcloth's Iced Tea dresses.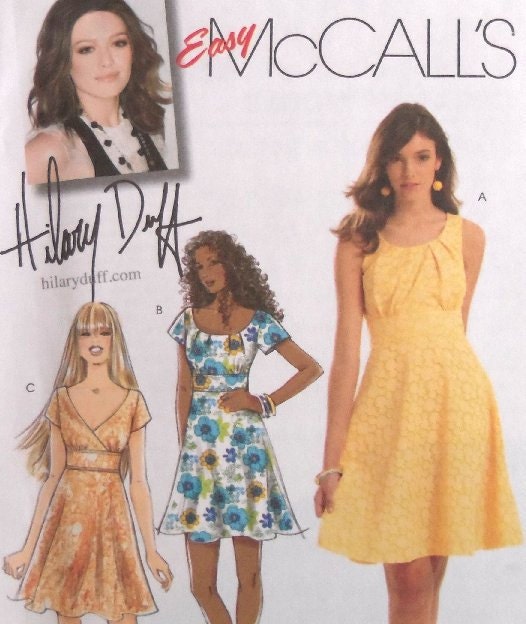 It's McCall's 5804, from their now-extinct Hilary Duff line. It was my first dress, and boy, was it a mess. Wearable, and one of the things that I get complimented on all the time, but still a mess. Particularly if you, like me, get to open it up and see the guts and machine-sewn hem (I know, I know!) or how poorly it actually fits me. I took it in with poorly down darts twice, and it still swims.
Needless to say, I'm quite excited for the second go-round this time. Armed with four extra years of sewing know-how, I hope it'll go better this time! I'll have to add in sleeves, but that's just a matter of finding a pattern with sleeves and stealing those. Pattern mash-up, anyone?